Specialty Transformers
Pioneer manufactures a number of specialized transformer products. Some of the types most commonly requested by our customers include:
Unitized Pad Mounts
Platform Mounts
Grounding Transformers
Rectifier Transformers
Vault Type Transformers


Unitized Pad Mounts
Pioneer manufactures low profile, tamper proof, totally integrated pad mount substations, called unitized pad mounts. These units are used at commercial sites such as apartment complexes, shopping centres, office complexes, industrial parks, factories, airports, hospitals, schools and military installations. The units have an aesthetic appearance and avoid the necessity of fences and overhead electrical structures.
Generally, any end user buying power at the primary voltage level, or owning and operating their own HV distribution system should consider unitized pad mounts. This design eliminates hot sticks so that non-utility personnel can switch off the unit. Inside the compartment an external load break switch on the HV side can be checked through a viewing window to see if the blades are in the open or closed position. a mechanical interlock system prevents access to the fuse compartment unless the load break switch is in the open position. Sizes are as follows:
| | | |
| --- | --- | --- |
| 5kV CLASS | 60kV BIL | UP TO 3MVA |
| 15kV CLASS | 95kV BIL | UP TO 5MVA |
| 25kV CLASS | 125 & 150kV BIL | UP TO 5MVA |
| 27.6kV CLASS | 150kV BIL | UP TO 5MVA |
| 34.5kV CLASS | 150kV BIL | UP TO 5MVA |
The units conform with CSA, ANSI or EEMAC applicable standards. we can provide:
fused or unfused load break switch on HV side
secondary metering compartments
LV distribution center (fusable switches, enclosed CB, metering)
shunt trip coil
lightning arresters
key interlocks
various gauges
fan cooling or provision
55/65 degree C temperature rise

Platform Mounts
We offer a range of platform mounted units from 250 kVA to 1000 kVA with voltages up to 46kv, 250kv BIL. these units can also be supplied for substation installation up to 2.5 MVA. We offer the following options:
special LV terminations like throat or junction box
dual voltages up to a ratio of 3:1
tap switches
various gauges
skid base
Grounding, Rectifier and Vault-Type Transformers
Pioneer offers a number of other specialized transformer units, engineered and manufactured in a range of sizes and to customer specifications including grounding, rectifier and vault-types, among others.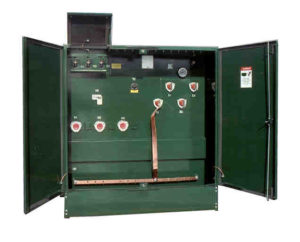 1500 kVA 25kVD-600Y/347V
Unitized Pad-Mount


500 kVA 14.4kV-347V
Platform Mount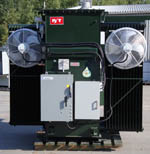 Rectifier Transformer